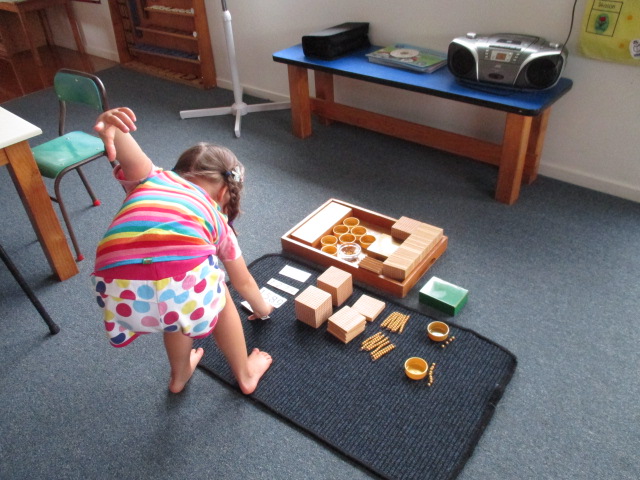 The Tui Class is a fully equipped Montessori classroom catering for children from 3 to 6 years of age. Montessori trained teachers guide children through individual planning schedules that ensure they are kept stimulated, productive and engaged. Morning sessions begin in the classroom for a 2 hour activity cycle before we open the outside area after morning tea. Our outdoor environment has a variety of activities for the children to take part in such as art, craft, carpentry, gardening, care of Guinea Pigs, sandpit, water play, ball skills and gross motor activities. Inside activities are listed over the page under curriculum areas. The morning session ends with mat-time and all children stay for lunch until 12.45pm.The afternoon session begins at 1.00pm with stories and then inside activities before a final play outside with pick up at 2.45pm. Every Thursday morning we invite Playball coaches to enrich our children's gross motor skills, they use balls, hoops and a variety of games.
Daily Routines
Morning sessions
8.30 - 10.30 After the children arrive in the Tui classroom they are given the choice to explore work inside the classroom and are given presentations for new work by the teachers.
10.30 Morning tea starts, children eat a snack from their lunch box. Children are also reminded to go to toilet at this time.

10.45 - 11.30 Children are given the choice to explore work inside or outside. Every day we have a variety of arts and crafts interests on the covered deck area and many different gross motor skills in the garden/playground area.

11.30 - 12.00 All children participate in mat-time singing, dancing, and stories. We also have a daily Show & Tell program with the children.

Afternoon sessions
12.00 - 12.30 Lunch-time, children bring own lunch-boxes and water bottles.
12.30 - 1.00 Outside activities.
1.00 - 1.15 Story time, children are encouraged to drink a glass of water.
1.15 - 2.30 Inside activities that emphasis on more focused work. Children are divided into 2-3 groups and assigned to different areas of the
classroom (Practical Life, Sensorial, Mathematics,Language and Culture) with one teacher in each group.
2.30 - 3.00 Outside activities until parent/caregiver pick-up.