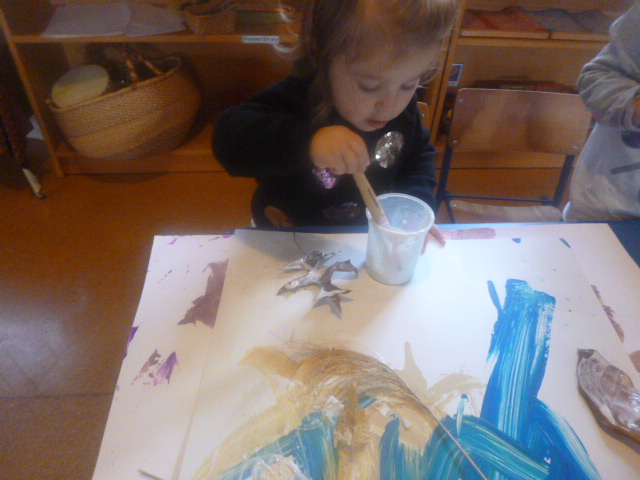 The Fantail Class is designed to meet the very specific needs of children from the age of 20 months to 3 years. The classroom environment is set up to allow the children as much independence as possible, which is supported by consistent rules and caring supervision. Fully trained and experienced teachers introduce the children to simple, engaging, fun Montessori activities which stimulate their language and intellectual growth. Morning sessions begin in the classroom for a 2 hour uninterrupted activity cycle including a short mat-time followed by morning tea then children are able to choose inside or outside activities. Afternoon sessions are available all week, we have a sleeping area for children who require it or for those who no longer require sleep they join the Tui class for the afternoon. The Fantail Class gives children a gentle, fun introduction to Montessori.
Daily routines
Children must attend the morning session in order to attend the afternoon session. It is expected that children will attend at least two morning sessions a week. We do have a designated sleep area with portable beds.
Morning sessions
8.45 - 10.15 Children arrive into the classroom and participate in a variety of inside activities, during this time we may have spontaneous music and movement and group stories.
10.15 - 10.30 Children can participate in mat-time singing, dancing, music and stories.

10.30 - 10.45 Morning tea, all children are required to bring a snack box and a water drink bottle, we ensure each child eats during this period. We also ensure each child either is helped to go to the toilet (toilet training is an essential part of what we assist this age group with) or has their nappy changed.
10.45 - 12.00 The outside environment is open and children are able to choose to explore activities inside or outside. Every day we have a variety of arts and crafts interests on the covered deck area and many different gross motor endeavours in the garden/playground area. Because we share the outside environment with the older Tui Class, all activities are graded appropriately to each child's capabilities.
Afternoon sessions
12.00 - 12.30 Lunch-time supervised by a teacher, children to bring own lunch-boxes.

12.30 - 1.00 Outside activities

1.00 - 2.30 Children staying for the afternoon session join the Tui Class for learning exploration. We have afternoon Fantail Classes on Wednesday and Thursday.

2.30 - 3.00 Outside activities until parent/caregiver pick-up