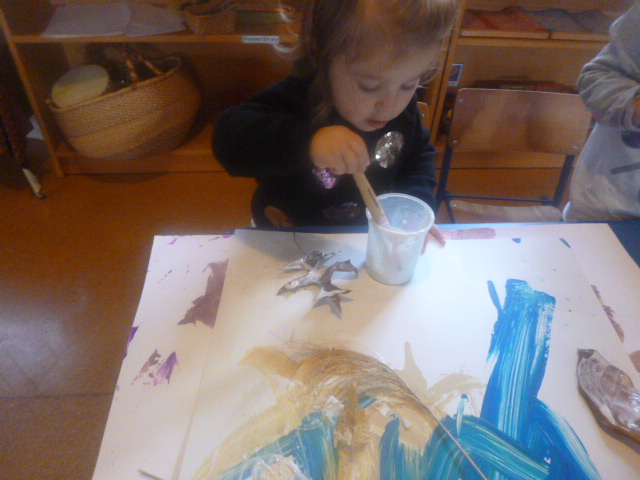 Welcome to the Parents Page
We would like to share some helpful tips with you and hopefully answer any questions you may have by visiting our frequently asked questions FAQ's page.
---
Fun activities for children
Playdough
2 cups flour
1 cup salt
4 tsp cream of tartar
2 tbl cooking oil
2 cups hot water
food colouring
Mix all dry ingredients first then add hot water
For scented playdough add spices, strawberry, vanilla or other essence
For textured playdough add crepe paper, marbles, flowers and leaves
Messy play
Shaving foam fun - add food colouring, shells, coloured stones or celophane

Clay or mud art - create sculptures, use leaves or wood to make patterns.
Settling in tips
Helping your child transition to Orakei Montessori Preschool, we believe it is best to visit us at least 2 weeks prior to your child's first day. Over this 2 week period gradually give your child the space to explore and discover their new surroundings. This may include observing your child at a distance so you are still in sight, letting your child know you are sitting in the staff room for 10 mins or going for a coffee or walk just down the road.
On your child's first day of preschool you can stay for as long as you and your child are ready to say 'goodbye'. You are welcome to telephone during the session to check that your child has settled (027 4707099) or to return a short time later (to listen out of sight). We will phone you or make further arrangements if your child has trouble settling. We have found it helpful if your child has a special comforter such as a blanket or soft toy they may bring it to help them settle-in and feel comfortable here.
If you have any special concerns about your child starting preschool, please talk with the teachers and we will do all we can to make your child's transition from home into the class a happy one.
Show & Tell Time
Show & Tell in Tui Class
Show & Tell will give children the opportunity to stand in front of their peers, and share a special object or stories. It will help them with their confidence and oral language skills, as well as sense of belonging that they are making a meaningful contribution to the class. Moreover, for the children that are the audience, the process will teach them mutual respect as well as listening skill to their peers. There are only three spots for Show & Tell each day, and one turn per child per week. Children must put their name tag on our Show & Tell board, if they want a turn.
The special objects for Show & Tell can be things of educational values (ex: books, music, songs), natural values (ex: things that you found when walking around the park/beach, insects), family values (ex: photo of family on a special trip/holiday, special gifts), and personal values (ex: singing, dancing). We don't normally allow toys for Show & Tell, unless the toys has a sentimental values behind it.
---