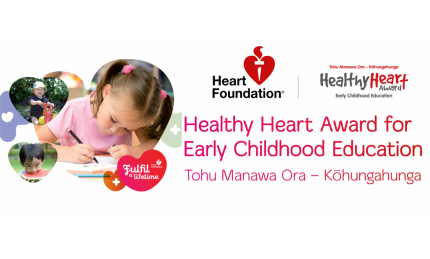 Healthy Heart Award
We are proud to be part of the healthy heart award for early childhood education and are actively pursuing a Bronze Award. At Kowhai Montessori we are pro-active and conscious about eating healthy.
Lunch Box Guideline
Spending the day learning and playing requires the right sort of fuel. Good nutrition can lead to better concentration and improved learning as well as healthy growth and development.
It's important to load your child's lunchbox with tasty food that is both healthy and appealing. With guidance from the Heart Foundation, we recommend choosing at least one item from each of the four food groups.
Here are some ideas:
Breads and cereals: Sandwiches/wraps, leftover pasta/rice, fruit pikelets, homemade nut free muesli bar
Vegetables and fruit: Cherry tomatoes, vegetable sticks and hummus, vegetable and lentil patties, fruits kebabs, fruits salad.
Milk and milk products: Yoghurt, dairy food, cheese.
Lean meats, chicken, seafood, eggs and dried beans, peas and lentils
Boiled egg, skinless chicken drumsticks and hummus.
Water is the best drink for children and we have this freely available throughout the day. Please do not bring in any other drinks. We also ask parents and caregivers to exclude treats/occasional food from the children's lunches. This includes lollies, chippies, chocolate etc.
As we are a nut free centre, all nut products will be sent home unopened, as is often the case with some brands of muesli bars. Please let us know if you have any questions or need any further advice regarding lunches.
Thank you for supporting healthy eating
Healthy Lunchbox Ideas
vegetable sticks with hummus or healthy dip
crackers and cheese
spirulina and fruit pikelets
vegetable and lentil patties
Rice or corn wafers with healthy fillings
fruit kebabs or fruit salad mix
scroggin mix - yogurt raisins, pumpkin and sunflower seeds
pumpkin or sunflower seed butter (see recipe)
wraps with cold meats, avocado, cream cheese, salad
Homemade nut free muesli bars (see recipe below)
Brown or basmati rice with egg and veges
Sushi
Meat and/or vege patties or pikelets
Vegetable and chicken frittata
Mother's day crackers
Ingredients

½ cup wholegrain oats (jumbo oats fine)
1¾ cups flour
½ cup Sesame seeds
1 tsp baking powder
½ cup Linseed
2 tsp salt
½ cup Sunflower seeds
1 cup water
½ cup Pumpkin seeds
½ cup olive oil

Method

1. Mix all ingredients – makes quite a wet mix.
2. Divide into approx. 3 parts (depending on the size of your trays). Lamington trays 28x 40 ideal.
3. Roll out thinly between 2 sheets of baking paper.
4. Leave on the lower sheet and use a big knife to press down into dough to mark where you will later break it into pieces.
5. Bake 200C for 18-40 mins.

Recipe retrieved from http://www.radiolive.co.nz/Brigittes-crackers/tabi...

Healthy Food Recipes
Pumpkin or sunflower seed butter
1/2 cup pumpkin or sunflower seeds
2 - 4 tablespoons rice bran or olive oil
Blend until texture is smooth


Home-made muesli bar - nut free
Preheat oven to 180°C. Grease and line a slice tray (mine is 31 cm x 22cm) with baking paper. Combine honey, sugar and butter in a sa
Serving Size:Makes 24

Special Info: Egg free, Nut free

Ingredients:
½ cup (125mL) honey
¼ cup caster sugar
125g butter
3 cups rolled oats (see note for GF)
1 cup rice bubbles
1 cup sultanas
½ cup chopped apricots or dates or choc chips
½ cup desiccated coconut
¼ cup pepitas (pumpkin seed kernels), sunflower or sesame seeds


Method:

Preheat oven to 180°C
Grease and line a slice tray (mine is 31 cm x 22cm) with baking paper.
Combine honey, sugar and butter in a saucepan over medium heat.
Cook, stirring, for 2-3 minutes until butter melts and sugar dissolves.
Bring to the boil and cook for 2 minutes or until syrup thickens slightly.
Remove from heat.
Combine remaining ingredients in a large bowl.
Pour over the hot syrup and stir to combine.
Spoon into prepared pan and press firmly to make sure the mixture will stick together.
I wet my fingers with a bit of cold water and press the top to get a smooth finish.
Bake in oven for 15-20 minutes or until golden.
Cool and then refrigerate until well chilled and cut into 24 slices (about 2cm x 6cm).

Notes:
To make these muesli bars gluten free, use 2 cups of crushed cornflakes and 2 cups of rice bubbles.
The mixture has a total of 1½ cups of dried fruit – use whatever combination you or your kids prefer.
I have to put some obvious choc-chips on the top so my son will tolerate the sultanas.
And let's not mention the sunflower seeds.
You could use half honey, half smooth peanut butter in the 'syrup' or add nuts to the mixture, but as most schools are nut-free now I have omitted these from the basic mix.
Recipe created by Melissa Hughes for Kidspot.
Savory Zucchini Bread
Ingredients

325 grams zucchini (about 2 medium zucchinis)
1 teaspoon salt
1 1/2 cups flour - all-purpose
1 tablespoon sugar - granulated
1 1/2 teaspoons baking powder
1 teaspoon paprika
3 large eggs
1/3 cup olive oil
2 tablespoons water
1 sprigs thyme - fresh stems removed and leaves minced
80 grams Cheddar cheese cut into 1.25-centimeter cubs


Instructions

Preheat the oven to 350 degrees F (175C). Spread a thin layer of olive oil evenly onto every inner surface of a standard 9"x5" loaf pan. Dust with flour to coat evenly. This will keep your loaf from sticking to the pan once it's baked, so make sure you don't miss any spots. You can also line the inside of your pan with parchment paper.
Remove the ends of the zucchini, then shred it into a colander using the large side of a box grater. Add the salt and toss to distribute evenly. Leave the colander in the sink or over a bowl and allow the excess water to drain from the zucchini for at least 15 minutes.
In a large bowl, whisk the flour, sugar, baking powder, and paprika together.
In another bowl, whisk the eggs, olive oil and water together until the mixture has emulsified (combined) and it's light and frothy. Add the drained zucchini and thyme in with the egg mixture and stir to combine.
Dump the egg mixture into the flour mixture and use a spatula to fold everything together until the mixture is just combined. Be careful not to over-mix the batter or the bread will become tough.
Spread half the batter into your prepared loaf pan then add half the cheese. Add the rest of the batter and smooth off the top. Stick the remaining cheese on top, and then place the pan in the oven. Bake until a toothpick comes out clean (about 45 minutes in a convection oven).
When the zucchini bread is done, remove it from the oven and allow it to cool for 10 minutes in the pan, and then transfer it to a wire rack and let it cool completely.
Recipe retrieved from http://norecipes.com/recipe/zucchini-bread-recipe/
---